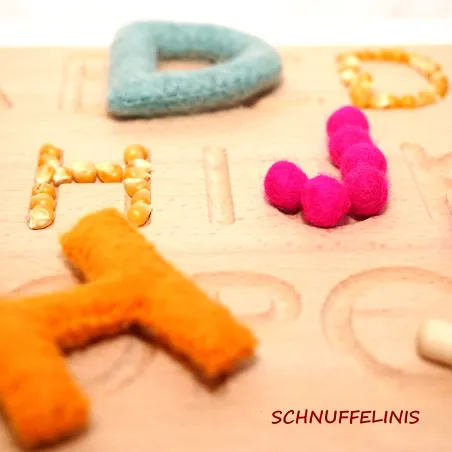  
Alphabet Montessori board
ABC Tracing board  - while children are learning their letter, this board provides them a hands-on feel. In the blink of an eye the know the letters from the alphabet.

Free shipping
to Germany starting at 29€
Fast Delivery: Express processing - we dispatch every day - world-wide
Secure payment
with Credit card, PayPal or bank transfer
Our alphabet board for on the go. Wonderfully for the next restaurant visit, longer car trips, free play idea for preschoolers.
Trace with your finger or a pencil and then write down the practised swinging exercises on paper. What is "only" a tracing exercise in the beginning, the children quickly connect the feeling with the finger to the letters and then write it from memory. The writing quickly becomes fluid and relaxes the little fingers.
Tracing the grooves with the child's finger builds finger-muscle memory for numbers in the children as they learn to write independently. The fingertip from the index finger is the best type of feel for first learning. By filling the depressions with small objects such as rice, small stones, vegetable snacks, shells, etc., fun is quickly awakened for new discoveries and the ABC is learned easy by playing.
The following versions are available:
- Letter board (upper case letters on the front, lower case letters on the back). 
The letter board is 29cm x 29cm x 1cm in size, untreated beech wood.   
All other wooden toys are available as a kitchen set under: https://schnuffelinis.de/en/learning/294-kitchen-set3-felt-and-wool.html
Please note that wood is a natural product and the grain as well as the colors can be slightly different.
We pack our products with care and love, but for the sake of the environment we avoid "disposable packaging" as much as possible and use reusable cotton bags or recyclable tree-free bamboo bags. We hope that this is also in your interest and look forward to your feedback.
Back to our shop: https://schnuffelinis.de/en/
*Safety note:*
Attention. Please note that the individual parts are not suitable for babies/toddlers under 36 months and that they cannot reach the materials unsupervised. Otherwise there is a risk of small parts being swallowed. Cords and ribbons can also lead to choking. Pay attention to this and do not leave children unsupervised.
SCHNUFFELINIS
FIND US ONLINE
• Instagram - @schnuffelinis
• Pinterest - https://www.pinterest.de/schnuffelinis
• More informations - https://schnuffelinis.de
• Facebook - https://www.facebook.com/schnuffelinis
Use #schnuffelinis to share your photos with us on Instagram.
Thank you so much for visiting, and supporting our small family business ♡