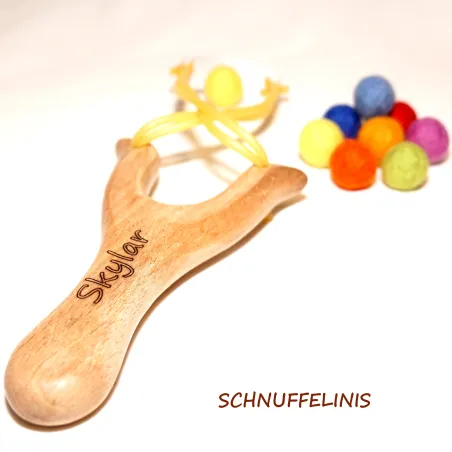  
wooden slingshot felt balls
Wooden slingshot with felt balls for forest, garden and outdoor fun. Childhood memories are awakened here and bring lots of "colour into play" with colourful felt balls. 

Free shipping
to Germany starting at 29€
Fast Delivery: Express processing - we dispatch every day - world-wide
Secure payment
with Credit card, PayPal or bank transfer
1pcs. wooden slingshot made of one piece of wood with 8 pcs. coloured felt balls in 2,5cm/1" each in a mix from the example pictures or your own colour combination from our felt balls colour chart. You can also choose the variant with 3 pcs. baseball felt balls in 4cm/1,57".
Our 2,5cm/1" felt eggs make a great extension with the wooden slingshot.
Dimensions: 15x 10cm / 5,90" x 3,93"
Great for pouring exercises and learning fine motor skills, as creative free play and for cooking for the cuddly toys.
This colourful set can easily be used to learn "cooking", colours and counting too.
More wooden toys available unter: Montessori (schnuffelinis.de)
OUR felt items are guaranteed to:
- NOT use toxic Chemicals
- NOT use Fillers, 100% wool (felt wool)
- NOT use Solvents
- NOT use Bleach, AZO free dyes
- be Petroleum free
- Mulesing free
We pack our products with care and love, but for the sake of the environment we avoid "disposable packaging" as much as possible and use reusable cotton bags or recyclable tree-free bamboo bags. We hope that this is also in your interest and look forward to your feedback.
Back to our shop: https://schnuffelinis.de/en/
*Safety note:*
Attention. Please note that the individual parts are not suitable for babies/toddlers under 36 months and that they cannot reach the materials unsupervised. Otherwise there is a risk of small parts being swallowed. Cords and ribbons can also lead to choking. Pay attention to this and do not leave children unsupervised.
SCHNUFFELINIS
FIND US ONLINE
• Instagram - @schnuffelinis
• Pinterest - https://www.pinterest.de/schnuffelinis
• More information - https://schnuffelinis.de
• Facebook - https://www.facebook.com/schnuffelinis
Use #schnuffelinis to share your photos with us on Instagram.
Thank you so much for visiting, and supporting our small family business ♡