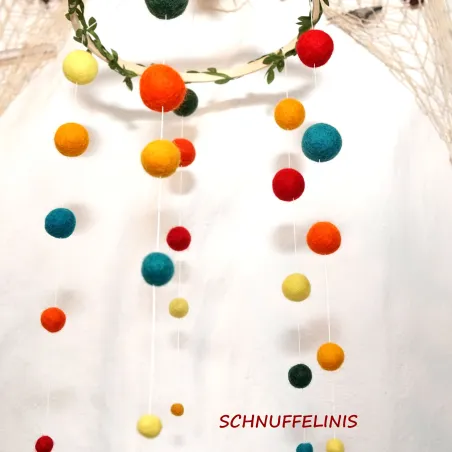  
DIY set Baby mobile fairy forest
DIY SET - Baby Mobile - Fairy Forest - watches over a happy dreaming baby - enchanted felt balls colour mix with a star and leaf crown in the hanging are designed to give sweet, comforting dreams. 100% wool (felt wool) mobile in great children's colours.

Free shipping
to Germany starting at 29€
Fast Delivery: Express processing - we dispatch every day - world-wide
Secure payment
with Credit card, PayPal or bank transfer
Designed to give sweet comforting dreams.
All our felt balls and felt stars are 100% wool (felt wool) wet and/or needle felted and will delight generations of babies in your family for years to come. 
The bamboo ring is 20cm in diameter and decorated with the mobile strings. The balls are arranged in 4 different sizes of 1cm, 1.5cm, 2cm and 2.5cm (+/-1mm), the star is 4cm and the included leaf tendril completes the mobile by swinging it around the bamboo ring and knotting it at the end. The nylon is waxed so that the balls can be slid into the desired position without slipping. 
The DIY set includes:
- Felt balls in 4 different sizes 1cm/0.4", 1,5cm/0,5", 2cm/0,78" and 2,5cm/1" in forest colours
- 1stk. felt star in yellow (ca. 4cm),
- 1stk. mobile bamboo ring as well as enough nylon and a needle to get started right away.
OUR felt items are guaranteed to:
- NOT use Chemicals
- NOT use Fillers
- NOT use Solvents
- NOT use Bleach, AZO free dyes
- be Petroleum free
- Mulesing free
*Safety note:*
Mobiles are NOT toys, but intended as a decorative item and therefore please place them out of the reach of babies and children.
Attention. Please note that the individual parts are not suitable for babies/toddlers under 36 months and that they cannot reach the materials unsupervised. Otherwise there is a risk of small parts being swallowed. Cords and ribbons can also lead to choking. Pay attention to this and do not leave children unsupervised. Mobiles are not toys, but decorative objects.
SCHNUFFELINIS.com