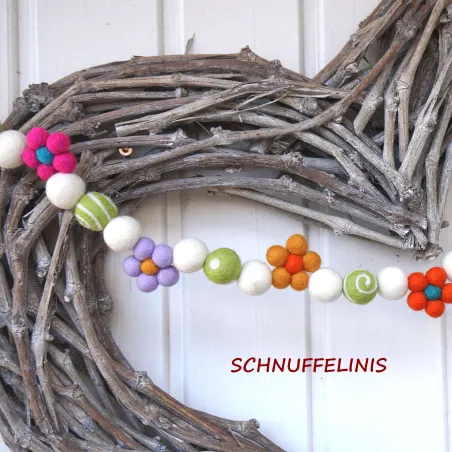  
Flower Garland
Daisy flower felt garland - Ready to hang and decorate the mantle fireplace - 3 different length.

Free shipping
to Germany starting at 49€
Fast Delivery: Express processing - we dispatch every day - world-wide
Secure payment
with Credit card, PayPal or bank transfer
Bring the cute garland for your Birthday party, as Garden decoration into the house or as everlasting bouquet of flowers as a great gift  for a house warming as mantel garland decoration. The daisy flowers felt balls garland will add the prefect touch for any occasion. 
You can choose the felt balls sizes in 0.78" or 1" (+/-1mm), the swirly and dotted felt balls are 2,5cm/1" large in white/pink or green/white. 
Size options:
15pcs. felt balls in 10pcs. white + 5pcs. swirly/dotted felt balls + 4pcs. flowers on 6,5ft / 2m of string
24pcs. felt balls in 16pcs. white + 8pcs. swirly/dotted felt balls + 7pcs. flowers on 8ft / 2,5m t of string
47pcs. felt balls in  32pcs. white+ 15pcs. swirly/dotted felt balls + 17pcs. flowers on 12ft /4m of string
OUR felt items are guaranteed to:
- NOT use toxic Chemicals
- NOT use Fillers, 100% wool (felt wool)
- NOT use Solvents
- NOT use Bleach, AZO free dyes
- be Petroleum Free
- Mulesing Free
PLEASE NOTE: Our garland in the photo is pushed together on the string and is a 10ft garland - for yours to look like this - you can just push the balls together or separate along the string. The felted balls are strung on a delicate yet very strong red cotton string and can be placed about 3 inches apart or pushed together on the string. There are no knots holding the felt ball in place so with a simple tug you can arrange the felt balls as you desired space on the garland. They will not move on the garland unless you physically move them.
"Caution: not suitable for children under 36 months. "
In any case, make sure that your baby/toddler cannot reach the materials unattended. There is otherwise a risk of the swallowing of small parts. *
SCHNUFFELINIS.com