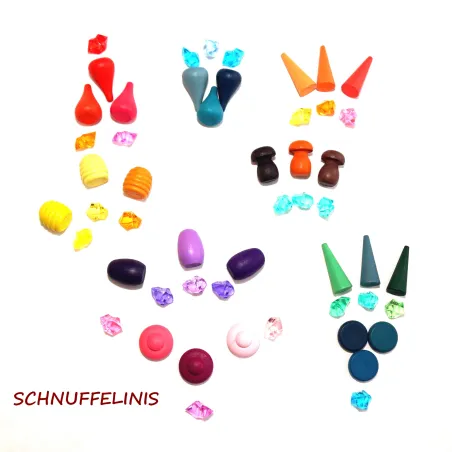  
Mandala wooden stones sparkle set
Colors, stones and lots of fun = the stone shapes stimulate the imagination with the sparkles and bring lots of "color into play".  So you can build wonderful faces and mythical creatures, lay shapes, decorate fairy forests, endless free play fun as a sustainable Advent calendar, table decorations for children's birthdays, Santa Claus stocking stuffing yes even practicing counting is really fun. 
As Set1, Set2 or Set3 selectable. 

Free shipping
to Germany starting at 49€
Fast Delivery: Express processing - we dispatch every day - world-wide
Secure payment
with Credit card, PayPal or bank transfer
Brings a lot of "color into play". Depending on your mood, these stones can be used for counting, as table confetti, for the Advent calendar, as an expansion or initial set and stimulate through the different shapes to funny faces, shapes and color combinations.
The respective set ordered from:
Set1 - 27stk. loose wooden stones as well as 27stk. sparkles for pattern laying.
Set2 - 54 pcs of loose wooden stones and 54 pcs of patterned sparkles 
Set3 - 20pcs colourful mix of sparkles approx. 2cm x 1.5cm 
What a fun to play with! Even for Mummy and Daddy :)
*Safety note:*
Attention! Make sure that the individual parts cannot be reached unsupervised by babies/toddlers under 36 months. Otherwise there is a risk of small parts being swallowed. Cords and ribbons can also lead to choking. Be aware of this and do not leave children unsupervised. Mobiles and garlands are not toys, but decorative objects.
SCHNUFFELINIS