Montessori
Learning material according to Montessori - fun and playful learning!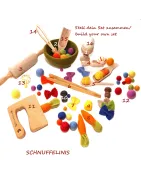 Subcategories
Toys and games lean on Montessori

Feeling, tasting, measuring, cutting, decanting, whisking, all the little things that train fine motor skills and turn the fun of playing into later writing successes; early practice makes perfect.

Where play meets learning, it's fun and, above all, it stays in the memory. Feeling with the hands in natural colours makes felt a great experience.