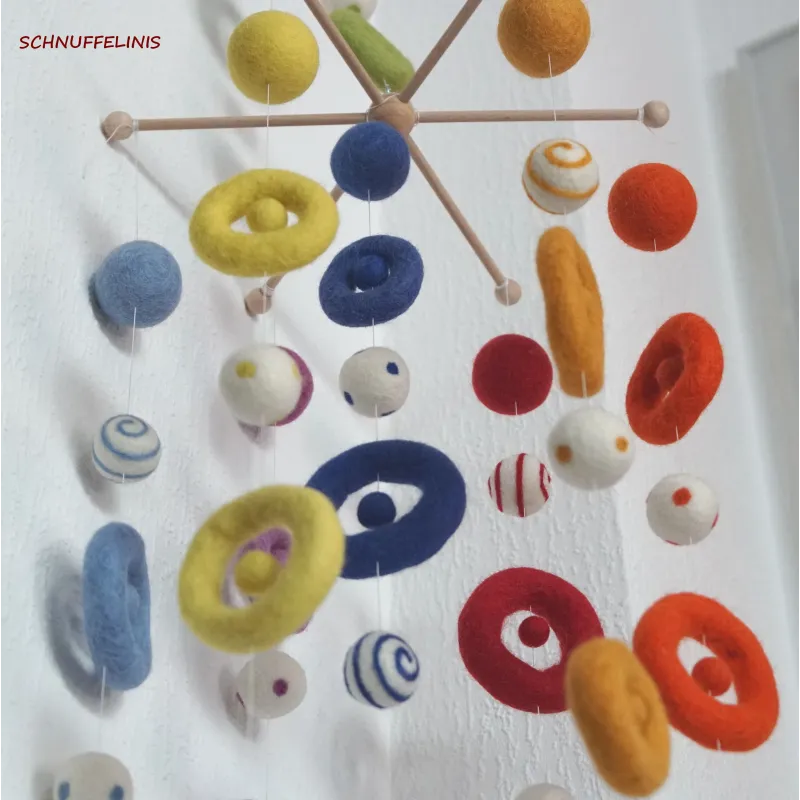  
Baby mobile DIY rainbow XXL
This is a DIY felt balls & felt ring mobile set for a Baby crib  -with felt balls, felt rings and a wooden hanger - simple to assemble.

Free shipping
to Germany starting at 49€
Fast Delivery: Express processing - we dispatch every day - world-wide
Secure payment
with Credit card, PayPal, Klarna or bank transfer
Baby felt balls mobile DIY KIT - just need our great felt balls, bright color fitting felt rings and a mobile hanger for your baby crib. DIY your own mobile.
The set incl.  
- 1pcs. wooden mobile hanger ca. Ø 30cm/11,81" easy to assemble (unpainted)
- 32pcs. (in 3cm/1.18" uni, with swirly and dots and 1,5cm/0.4" uni) felt balls in rainbow colors
- 16pcs. felt rings in 5cm/1.96"+ 7cm/2.75" in fitting rainbow colors 
and enough nylon cord and a needle to start right now. 
Our felt items are:
- NOT use toxic Chemicals
- NOT use Fillers, 100% wool (felt wool)
- NOT use Solvents
- NOT use Bleach, AZO free dyes
- be Petroleum Free
"Caution: not suitable for children under 36 months. "
In any case, make sure that your baby/toddler cannot reach the materials unattended. There is otherwise a risk of the swallowing of small parts. *
SCHNUFFELINIS